In the past week or so, there was an instance of a criminal act of posting ads for Craigslist readers to raid an unsuspecting person's house (for free items). Today, there was another similar instance of this activity. What is causing this, are Anonymous Communities to blame?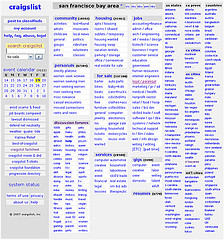 I believe that Anonymous Communities aren't totally to blame. Let's not forget the adage, 'If you build it, they will come.' As more people go to an online destination, they more desire their anonymity and online image. However, like anything else, there are a handful of folks who get a thrill out of abusing the privileges of anonymity. (These are known as trolls, check out my earlier entry on them.)
All communities require nurturing and monitoring, whether it's anonymous or not. I recall during my time at AOL, their News channel is not anonymous, but I've seen a lot of vitriol and racist statements being spewed on every news story in the comments from users. The problem? The lack of consistent proper moderation and review. Anonymity is not related to criminal activity. Accessibility is. The key to preserving an online experience is to balance the features, functions and accessibility together with users in mind.
Another growing online discussion site, Topix, provides registration and anonymous comments from their users. They can often be found discussion hot topics like abortion, religion, all the way to politics and local news. Topix founder, Chris Tolles, discloses the statistics on their user activity between anonymous and registered users.
One way to avert this type of abuse is to offer free registration with fringe benefits. Communities can offer benefits like online reputation, increased value for visitors, as well as trust indicators (like eBay). For Craigslist, benefits to users would be access to HTML templates, e-mail subscriptions, access to visitor's demographics on postings, and reputation ratings on their user's sales. It would be a win-win-win for everyone.
New laws and legislation is not the answer.
I want to make it clear that it already is illegal to post harassing statements or facilitate a criminal act against someone. I expect that law enforcement would use Craigslist as an advantage to aid in their investigations (burglaries, robberies, thefts) as well as harassment. Perhaps as more criminal activity makes its way on over to Craigslist, law enforcement will have more respect for the service in catching criminals.
That said, I think it would be a good idea to see that when posting content on Craigslist, it would display your IP Address and Hostname to remind the user their activity is being logged to ensure the safety and security of all their users. Most people would likely think twice before posting a raid on a person's house.
The question we must ask ourselves is this, How many casualties of anonymous online communities is acceptable, and how to you manage/react to those? If you don't have a plan, you won't be able to execute smoothly. As Craigslist becomes the next eBay, I hope they are considering the safety and security of their users as they expand.
I admit the solution is complex to prevent criminal activity; but what do you think online providers should do to minimize the abuse from their users?