As I'm working on a startup (it's under wraps, for now), I often need fuel to push me to burn the midnight oil. I term the phrase "Startup Fuel" to describe the food, drink or motive that pushes one to defy entrepreneurial limits. I'd like to know what fuel makes you fire on all cylinders to make well on an idea.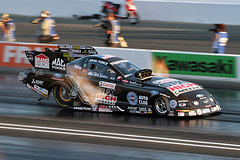 My Startup Fuel is Pizza and Dr. Pepper. It's more than the food, it's the spirit that surrounds it. It's instant sustenance and allows one to continue to work on a project.
Previously, it was energy drinks, but they make me too jittery and often cloud my concentration on a project. Coffee helps but it's too relaxing for me. The 23 unique flavors found within Dr. Pepper compliment the three or four found within a Pizza which makes it so rewarding to have.
I believe the entrepreneurial spirit needs fuel in order to propel ideas and creativity forward. It's one thing to draw something up and ask questions; it's another thing to get down and execute them.
What's with my choice of photo on this entry? It depicts the fuel for competition, challenge and the entrepreneurial spirit. The accompanied image for this entry is of NHRA legend, John Force, in his Funny Car (which happens to be fueled by Nitromethane which is used in Top Fuel drag racing).
What products have you made on such fuel? I'd love to know the Startup Fuel that was used to create such engaging Web 2.0 services like Flickr, Del.icio.us and Digg.
What is your Startup Fuel? Please share them in the comments below!
[Image Credit, mvonraesfeld on Flickr]